SQL tutorial from scratch -- Part 1
Introduction
Before going deep dive into in SQL I want to explain the main purpose of DB(database).
Suppose we have large amount of data (for example it would be the students in the same class), and we want to create some website which is give us all information about them. How we do it. Of course using database.Maybe you ask yourself questions: "I can store them in file or array". Yes you is exactly right. But imagine you have large amount of data and if you store them in file or array your program/website will work very hard. Now let's visualize databases:
As we can see it is one of the basic db type which is store title, release_year, length and replacement_cost.
Don't worry about DB if you don't understand them very well. Our next paragraphs will explain it more accurately and also I try to add some important images.
"Yes I know that right now you think 🤔 what is SQL"
Okay, SQL is stands for Structured Query Language and it is one of the most popular Database system in the world. But of course there are other types which is MS Access, Oracle DB, MS SQL and so on. So what SQL can do?
SQL can:
Manipulate data
Update data
Delete data
Insert data
Create table, db etc.
Retrieve data from db.
Generally DB systems divided into two parts: Relational and non-relational db systems
We can say an example for relational database systems--> MySQL.
We can say an example for non-relational database systems--> No SQL.
We can use SQL in our website. For example you have a lot of books and you want to store them in your website. For doing it first you must store them in SQL and easily call them in your website.
To do it we need:
RDBMS(Relational Database Management System)
Server side scripting language like Java, C#, or PHP, etc.
To use SQL to get data
For designing HTML, CSS, JS (JavaScript)
Now let's closer look at SQL syntax. To working in SQL first we must create some table
The picture which is given below explain it more accurately.
So we have three columns and first column's name is first_name(for storing names of customers)
Second column's name is last_name (for storing last name of customers)
And last column's name is email (for storing emails of customers)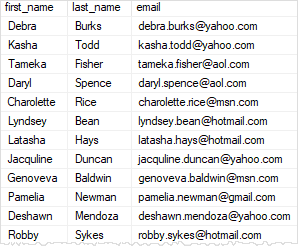 Later paragraphs you will learn how to edit the columns of given table(Delete, Update, Insert)
And now it is time to learn SQL. SQL have some keywords which is very important Keyword is special words in programming which is doing some operation
In SQL keywords isn't case-sensitive it means that for example 'Select', 'SELECT', 'sElEcT' keywords are the same. After each SQL statement we must put semicolon sign otherwise it will cause an error.
In standard it is accepted that every SQL keyword must write in upper-case letter.
Some of the most important SQL keywords
SELECT -extracts data from a database
UPDATE- updates data in a database
DELETE- deletes data from a database
INSERT INTO-inserts new data into a database
CREATE DATABASE-creates a new db
ALERT DATABASE-modifies a database
CREATE TABLE - creates a new table
ALTER TABLE modifies a table
DROP TABLE - deletes a table
CREATE INDEX-creates an index (search key)
DROP INDEX-deletes an index
SELECT- keyword
In SQL SELECT keyword is used to select data from database.
We can write the general formula for SELECT like this:
SELECT columnName1, columnName2,... FROM databaseName; (don't forget semicolon sign)
And if we want to select all information from table then we write:
SELECT * FROM databaseName;
Let's suppose its name would be '
users
'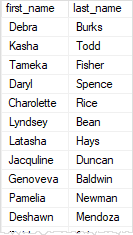 If we write
SELECT * FROM users;
then we can see all information which is given in the users table
When we write
SELECT first_name FROM users;
then we just can see only names of users.
Suppose you want to retrieve distinct(different from other) information from table. To execute it we use DISTINCT keyword.
Let's suppose our table's name is '
employers
'
For example we want to choose distinct year of birth. For doing it we just write:
SELECT DISTINCT Year_of_birth FROM employers;
Result would be:
1984
1974
1956
1990
1963
1975
Because 1974 repeated there 3 or more times DISTINCT keyword removes them and keep only one.
If we want to count the number of birth years which is different then we can do it as below:
SELECT COUNT(DISTINCT Year_of_birth) FROM employers;
Result would be : 6 (you can verify this).
I think it is enough for you about SELECT keyword. But remember after reading about keyword you must practice yourself otherwise the result would be bad.
Number of page views: